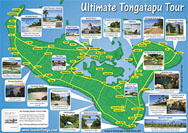 Tongatapu Island map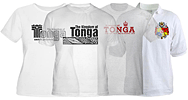 Tongan T-shirts and merchandise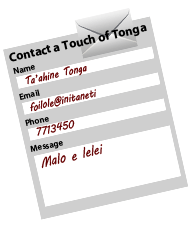 South Pacific Black Pearls
a Touch of Tonga is now proud to offer stunning Black Pearl necklace and ear-ring sets from the South Pacific. We invite you to read the description below of our lovely necklace sets, and send us any questions you may have via the form below.
About these Black Pearls, commonly called Tahitian Black Pearls:
Unpolished Black Pearls retain their original natural appearance and each pearl has a unique character, shape and combination of tints/hues.
These alluring black pearls with their steel-blue appearance can feature different shades of colour from blue, yellow, green, red and purple.
These pearls are in their natural state which means they feature the natural evidence of their formation, such as minor grooves around the diameter, and slight deformities of shape. Pearls are not normally found perfectly oval and polished!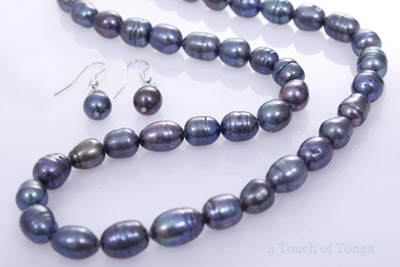 About these Black Pearls on offer:
The black pearls were collected naturally by divers from a South Pacific island.
They are not commercially cultured pearls and are therefore exceedingly valuable.
This hand-made set has been recently made by local Pacific Islanders and never worn.
Each necklace weighs about 50 grams, more or less.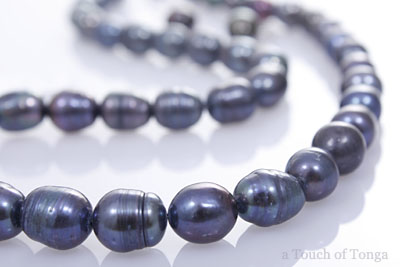 Additional detailed information:
The pearl covered length of the necklace strand is about 45cm (15.5"), more or less.
Average length of the pearls are 8mm - 13mm, more or less.
Average diameter of the pearls are 8mm - 10mm, more or less.
There may be over 40 pearls in a necklace.
Some of the earrings have 18KGP markings while others may be silver, or stainless steel. The locals are limited to using what's available. Alternatively buying pearls from us is a cost-effective way to obtain pearls for resetting and other purposes.
More information:
The pearls are sold here by the principles of Fair Trade, in that the people who made these pearl pieces get the price that they ask for and are happy with. They are sold here to create another outlet for them to generate an income for their families.
These pearls are sold from an exclusive source and not available anywhere else.
Ideal to purchase for investment, commercial resale or as the ultimate gift for someone special.
Each Black Pearl necklace and earring set is now on special for $188 AUD including International Registered post.